This will be a running page about the restaurants we have eaten at in PV in 2021/22: Click on restaurant name, or the image; you will be taken to the TripAdvisor reviews of the restaurant. Hopefully this will be an aid to people who want to discover the same places as we did.
Visited lunch 17th March 2022
Seasons PV: This place was the 'sleeper' of the whole winter. We have passed the place many times and had written if off as just another 'Gringo hangout' good for a morning coffee. No more; five forks for everything – service, price, and most of the food. Too much to eat and well done plates.
Rating: five forks for all categories
Visited lunch 2nd March 2022
Visited lunch 20th February 2022
Mar y Vino: This place was a surprise, located on the second floor of the Los Arcos Hotel on Olas Altos. The ambience was unusual as the tables and chairs sit in a wading pool ten inches deep.
The food was good; we went there on a recommendation that the Greek Salad was remarkable – it was but the feta cheese was in little dices not a big lump. The fish tacos were supposed to be unbreaded but I guess the chef didn't get the memo but they were still acceptable.
Rating: 4 forks for food 3.5 for service
Visited lunch 20th February 2022
DerbyCity Burgers: This resto, a downtown staple is for those who want American food and to hell with the Mexican stuff. We went there because one of our party obviously did not want the local stuff and the others agreed to go, maybe they wanted American too. The club sandwich was Walmart material and the burgers were the size of Texas. Quality was said to be good although my french fries and chili were only average.
Rating: 3 forks
Visited dinner 17th February 2022
El Brujo Another fan favourite which fails to disappoint. As usual a big group – seven, all had Mexican meals and all were satisfied with the service, quality and price.
We had tried to get into the place a couple of times before but they were closed for renovations, so when we managed to get in early, the place was packed when we left, we felt lucky.
rating: 5 forks
Visited dinner 11th February 2022
La Vaca Argentina This is a fan favourite. We have been many times before but first time this year. Everything the same – ambience, food, menu but prices up a bit. This place is pricey but worth it. We all had steaks this time – a bit underdone and one had to be sent back for more heat. Dessert was very good.
rating – 5 forks
Visited dinner 9th February 2022 
De Cantero A resto on 'restaurant row' Downtown, we had been in this place in a previous time, but it had a different name. Food was the same – flashy but pricey. The service was bad and some of the other's food had to be sent back to be redone.
Rating – 2.5 forks
Visited Valentine's Day February 14th 2022 Must be mentioned that this visit had a glitch, one of our group had a mixup with a meal order – the restaurant comped him!
Visited dinner 19th January 2022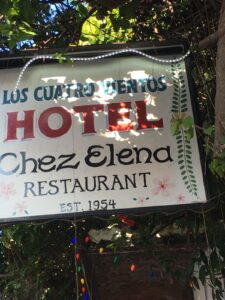 Chez Elena: A family favourite. We usually eat here at least once every Winter, more than that most Winters. The 'foodie' experience, in the past, has ranged from mediocre to excellent depending on the cook and how busy the place is. Last night was the best experience we have had. Seven of us and not one complaint, nothing but compliments.
Come for the sunset, observed from the "Nida" bar on the rooftop. Definitely not handicapped accessible.
Rating – 5 forks
Visited dinner January 22nd 2022: Rating – 3 forks – pricy
 Visited dinner 14th January 2022

Gabistro: This place is so new that no pics or reviews are available. Never mind that what's the food like? Good not special, mid-range price and good service.
Located in the One-Hotel complex on the South end, it has a patio and indoor dining.
Rating – 3.5 forks
Visited dinner 10th January 2022
Splash – Marina: Located in the Marina Vallarta, where the "Victor's Restaurant" used to be. Family of five ate small orders and it cost 1450 pesos ($70US), with beers and wine. Service was attentive, table layout very clean and modern and the food was tasty. A popular place with aging boomers and locals on the weekend.
Rating – 4 forks
Visited lunch 7th January 2022
Arribas, Olas Altos: Hard to find as it is an upstairs area. Look for the staircase beside Apaches and the Canadian flag hanging from the balcony. This place used to be called "The Thirsty Cougar".
Arrived at Noon as the b'fast was finishing but we were there for lunch, attracted by the daily special pork chops. And mimosas were 2fer1.
Fish and chips, the fish looked liked egg rolls but were really good. The meat loaf was its usual five star performance and the hamburger was an unexpectedly thick one. It delighted the orderer.
An added bonus was the 'free beer' offer. All you had to do was follow/review/mention the resto on facebook and show it to the waiter and he would give you a free beer. So I wrote a brief but good review, showed it to Alfredo and Bingo a beer appeared.
Rating – 4.5 forks
Visited dinner 2nd January 2022

Cevicheria:  This resto is in "resto row" at the Marina Vallarta. We have walked by it on a daily basis. someone suggested going in for dinner. It was the first place that we had to wait for a table this year. A very popular place especially amongst the locals. We all had sea food – three red snappers and one bacon-wrapped shrimps. All were very good, excellent shrimps but the red snapper had stayed on the grill a tad too long and was very crispy.
Rating – 4 forks
Visited snacks 30th December 2021
Blakes restaurant Under new ownership for a couple of years they moved into new premises last year. Unfortunately they left all the good things about Blakes behind. The new owner seems to care less about the good food and lower prices that made Blake's remarkable. "Went to Blakes despite the bad reviews we have had from our friends. Ordered a beer, overpriced for a sports bar, ordered nachos and the most peculiar nachos I have ever had turned up. No cheese melts from cheese slices the cheese appeared to be little cheese balls. Veggies and carrots also appeared to be in the topping, many nachos were not even covered so it was like ordering a bag of tostistos from the Oxxo." review left on TripAdvisor.
Rating – 1 fork
Visited dinner 29th December 2021
Gecko Pizza:  A new local pizza joint owned by the leader of PV's most popular cover band – The Gecko Band – Che Victor. We visited the place on a Wednesday evening and for a while our party of five was the only people eating. Good pizza, average grill food but bound to get better. This place doesn't even have a TripAdvisor review yet. Good prices  for food and beverages.
Rating – 3.5 forks
Visited breakfast 28th December 2021
Las Palomas Dorados A very well established resto in the Marina Vallarta. Has a long running promo of 50% off breakfasts on Tuesdays. That fills the place so go early on Tuesdays. Good Mexican b'fast and good prices too. We have never visited for any other meals so can't say how good they might be. Omelettes were ordered and the table was provided with unlimited coffee refills and a bread tray.
Rating – four forks
Visited lunch 25th January 2022 Rating – 4.5 forks again
Visited lunch 27th December 2021
La Pergola Mia: A quirky little resto tucked away behind a large condo complex and on a side street. You will miss it if you don't where it is. Breakfast from 8am to 1.30pm and Lunch from 1.30pm to 4pm.
Excellent value lunch has about six choices and is a standard price of 115 pesos. Three courses and refresco.
rating – 4.5 forks.
Visited dinner 24th December 2021:
Route 66 Wonderful place this time, we went for Christmas Dinner – turkey and all the trimmings. We had visited before and found the meals too 'american' but this time they had the food right. An overflowing plate was a surprise – almost too much food.
rating – 4 forks
Visited dinner 22nd December 2021:
D'Santinis, a resto in the Marina Puerto Vallarta. We had been there before and thought the menu was overpriced but what we had a couple of years ago compensated for the higher price. This time was different and I wrote about it on this page.
rating – for me 0 forks, for the rest of the party 2 forks.
Visited lunch 26th January 2022  Rating – 1 fork for service – bad
Visited lunch December 13th 2021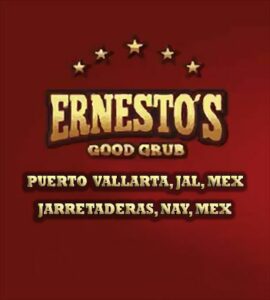 Ernesto's Good Grub  We have visited this place a few years back and when we went back this year the signature dish – tortilla soup – was still as good as ever. The soup came in three sizes and with 'agua refresco' and bread. Great service, fine food and a good price made it worth the effort of finding this out of the way place.
rating – four forks
Visited dinner December 6th 2021
Tony's Please:  Another popular resto in "Old Town". All three of us were suitably impressed by the resto and menu, not so with the Covid precautions – masks not worn properly. Sirloin Tips for me and plates of Chicken Liver for the other two diners – all better than average.
Rating: 3.5 forks